Now accepting applications for part-time and full-time laborers. Transportation Required. Great pay, with no experience needed. Will train on the job.
Whole-Home Insulation in Traverse City, MI
Inter-Lakes Insulation is the go-to insulation and ventilation inspection contractor for Traverse City, MI. We help customers get the insulation their home needs for comfort and energy efficiency.
Let us provide an assessment of your home and help you decide on the right insulation products to solve your problem areas. Contact us today to schedule a consultation for a free estimate.
Trust the Insulation Experts to Deliver Quality and Comfort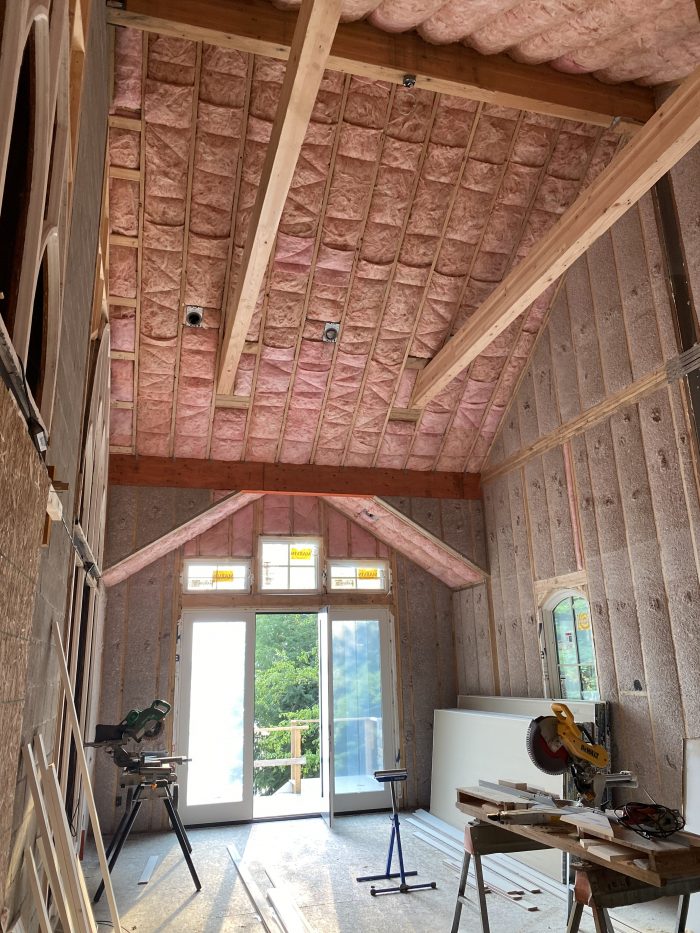 When it comes to insulation, quality is something you can feel. At Inter-Lakes Insulation, quality is how we set ourselves apart from the competition. We go above and beyond to provide you with superior insulation installation in Traverse City, MI, backed by results you can feel. We're the contractors you can trust to use the best materials, provide the best results.
Our focus is on whole-home insulation in Traverse City, Traverse County, Elmwood Charter Township, and Garfield Township, MI. Not only can we inspect and assess your attic and crawlspaces, our expertise extends to the whole home. If you've got inconsistencies in your heating, we'll find them and expose them to you. Whether the solution is better insulation, improved ventilation or something else, we'll tell you why. Then, we'll get to work fixing it!
Our insulation expertise extends to just about any type of material, including fiberglass batts, blow-in fiberglass, blow-in cellulose, closed-cell foam insulation and rigid board. We'll help you determine the right material for your home, installing it to perfection. The same goes for ventilation issues! We're adept at identifying and solving them the right way. If you've got problems like ice damming or mold growth, we know how to set them right. We'll even remediate the damage along the way.
When you put your home in the hands of Inter-Lakes Insulation, expect nothing less than the best. If it concerns insulation and ventilation, we're ready to help you reap the benefits. Look to us for lower energy bills, better comfort and more. No one beats our quality—the proof is in the results you're sure to feel.
Our team has more than 40 years of experience in this industry and is familiar with all types of whole-home insulation. We're knowledgeable when it comes to answering your questions.
We're a licensed Maintenance and Alterations Contractor in the State of Michigan. We're also insured for your peace of mind.
We use only the best products from reputable insulation manufacturers like DOW Chemical, J&M Board and Owens Corning.
Our team is capable of tackling projects of all sizes, big or small. We provide free estimates upfront, so you always know the cost.
We offer home insulation services to customers throughout Traverse City, MI and the surrounding areas. Call for inquiries outside the listed service areas!
Feel the Difference We Make
With quality insulation in your home, you'll feel the difference—guaranteed! Contact Inter-Lakes Insulation today to get a free estimate on whole-home insulation, mold removal, and more.
Proudly offering our insulation services to the following areas:
Cadillac, MI
Charlevoix, MI
Chums Corner, MI
Elk Rapids, MI
Garfield Township, MI
Glen Arbor, MI
Grand Traverse County, MI
Chums Corner, MI
Green River, MI
Interlochen, MI
Kalkaska, MI
Lake City, MI
Leland, MI
Manistee, MI
Merritt, MI
Northport, MI
Old Mission, MI
Rapid City, MI
Traverse City, MI
Benzie County, MI